What Is Investorship?
Investorship is a word based on well-established (but not always understood) truths:
First: We are all normal. We act (or, more accurately, react) out of unconscious biases and mental shortcuts. We are capable of consciously reflecting and reasoning before acting. Very often we do not, with unfortunate results.
Second: We all spend, not just our money but also our time, our effort, and our reputation. We spend something of value in exchange for something else of value. However, when we spend too much on things that decrease in value, and not enough on things that increase in value, we forfeit enormous future potential wealth. This phenomenon is called "spilling."
Third: Change is possible. By understanding of the type of spending essential for wealth creation, and by countering our reactive instincts with patience and practice, it is possible for anyone to spend their way to wealth.
Finally: Wealth means more than money. Non-financial wealth includes personal satisfaction, friendships, great memories, and many other things of true value. But one must build future financial wealth in order to have the freedom to enjoy this non-financial wealth.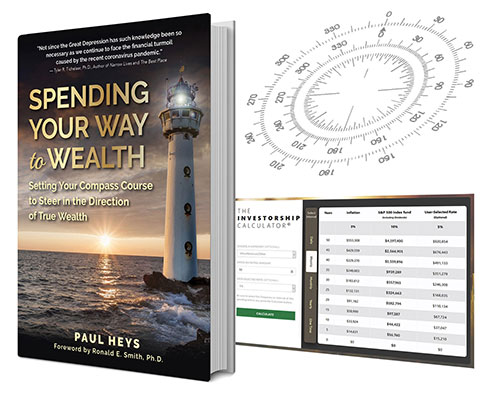 USE THE INVESTORSHIP CALCULATOR
"A wise and lucid guide to financial and psychological Wealth."
— David Myers, Ph.D., Hope College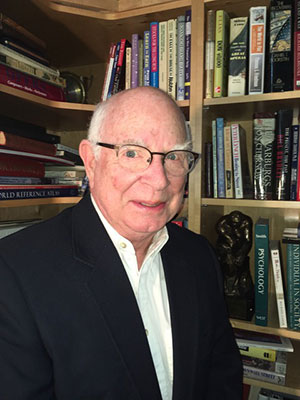 Author of the book, Spending Your Way to Wealth, Paul Heys is a retired financial advisor, a former CEO, and a founding director of a commercial bank. Prior to his financial career, he was a pilot (commercial jet instructor rated) and a retired Air Force officer.
For the past 20 years, Paul has been a frequent guest speaker at civic and municipal events—and on cruise ships. His talks on spending and wealth are often referred to as provocative, insightful, educational, and entertaining. After one such event, a passenger told the ship's cruise director that the presentation was "the highlight of the cruise." Another said they loved the way the presenter made them think.
Paul has compiled his insights on human behavior and its impact on spending and wealth into his book, available now, and continues to speak and write on the topic.
The
Investorship
Calculator©
Be sure to select the frequency or interval of this spending before you press the Calculate button.
Years
Inflation
S&P 500 index fund

(Including Dividends)

User-Selected Rate
3%
10%
70
0
0
0
65
0
0
0
60
0
0
0
55
0
0
0
50
0
0
0
45
0
0
0
40
0
0
0
35
0
0
0
30
0
0
0
25
0
0
0
20
0
0
0
15
0
0
0
10
0
0
0
5
0
0
0
0
0
0
0
Years
Inflation
S&P 500 index fund

(Including Dividends)

User-Selected Rate
3%
10%
70
0
0
0
65
0
0
0
60
0
0
0
55
0
0
0
50
0
0
0
45
0
0
0
40
0
0
0
35
0
0
0
30
0
0
0
25
0
0
0
20
0
0
0
15
0
0
0
10
0
0
0
5
0
0
0
0
0
0
0
Years
Inflation
S&P 500 index fund

(Including Dividends)

User-Selected Rate
3%
10%
70
0
0
0
65
0
0
0
60
0
0
0
55
0
0
0
50
0
0
0
45
0
0
0
40
0
0
0
35
0
0
0
30
0
0
0
25
0
0
0
20
0
0
0
15
0
0
0
10
0
0
0
5
0
0
0
0
0
0
0
Years
Inflation
S&P 500 index fund

(Including Dividends)

User-Selected Rate
3%
10%
70
0
0
0
65
0
0
0
60
0
0
0
55
0
0
0
50
0
0
0
45
0
0
0
40
0
0
0
35
0
0
0
30
0
0
0
25
0
0
0
20
0
0
0
15
0
0
0
10
0
0
0
5
0
0
0
0
0
0
0
Years
Inflation
S&P 500 index fund

(Including Dividends)

User-Selected Rate
3%
10%
70
0
0
0
65
0
0
0
60
0
0
0
55
0
0
0
50
0
0
0
45
0
0
0
40
0
0
0
35
0
0
0
30
0
0
0
25
0
0
0
20
0
0
0
15
0
0
0
10
0
0
0
5
0
0
0
0
0
0
0